Pictures: Ghanaian President, Akufo-Addo, receives world's first free Covax jab
Ghana's President Nana Akufo-Addo on Monday became the world's first recipient of a coronavirus vaccine from Covax, a global scheme to procure and distribute inoculations for free for poorer countries.
Richer countries have surged ahead with inoculating their population, but many poorer countries are still awaiting their first vaccine doses.
"It is important that I set the example that this vaccine is safe by being the first to have it so that everybody in Ghana can feel comfortable about taking this vaccine," the 76-year old president said before receiving a shot of Oxford/AstraZeneca vaccine in a live broadcast.
The first lady Rebecca Akufo-Addo also received a shot, one day before the rest of the 600,000 doses are deployed across the country.
Ghana's food and drug authority last month authorised the Indian-made vaccine and Russia's Sputnik V, as the government aims to target 20 of its 30 million population by year's end.
Last Wednesday, Ghana was the first country to receive vaccines from Covax, led by Gavi the Vaccine Alliance, the World Health Organization (WHO) and the Coalition for Epidemic Preparedness Innovations (CEPI).
Some 145 participating economies are set to receive 337.2 million doses by mid-year — enough to vaccinate a little over three per cent of their combined populations.
Covax has said it hopes to raise the figure to up to 27 per cent in lower-income countries by the end of December.
Ghana has recorded 84,023 Covid-19 cases and 607 deaths since the start of the pandemic, although the true figure is believed to be higher because of lack of testing.
Schools reopened in January after a 10-month closure, but large social gatherings are banned and land and sea borders have remained closed since March 2020.
Despite the vaccine roll-out, the president said that all the current restrictions to curb the spread of the virus were to remain in place.
(AFP)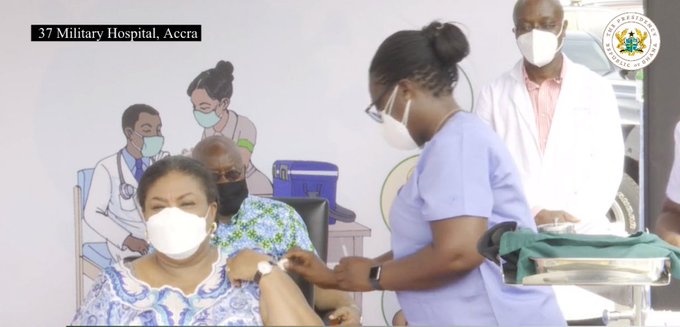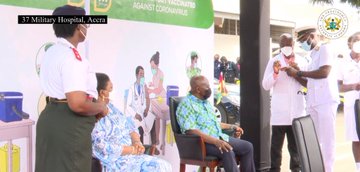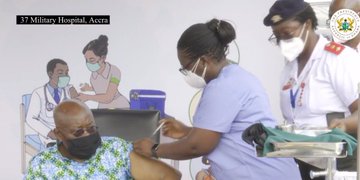 Woman expecting septuplets gives birth to 9 babies
A Malian woman gave birth to nonuplets in Morocco on Tuesday and all nine babies are "doing well", her government said, although Moroccan authorities had yet to confirm what would be an extremely rare case.
Mali's government flew 25-year-old Halima Cisse, a woman from the north of the poor West African state, to Morocco for better care on March 30.
She was initially believed to have been carrying septuplets.
Cases of women successfully carrying septuplets to term are rare — and nonuplets even rarer.
Moroccan health ministry spokesman Rachid Koudhari said he had no knowledge of such a multiple birth having taken place in one of the country's hospitals.
But Mali's health ministry said in a statement that Cisse had given birth to five girls and four boys by Caesarean section.
"The mother and babies are doing well so far," Mali's Health Minister Fanta Siby told AFP, adding that she had been kept informed by the Malian doctor who accompanied Cisse to Morocco.
Doctors had been concerned about Cisse's health, according to local press reports, as well as her babies' chances of survival.
Mali's health ministry said in a statement that ultrasound examinations conducted in both Mali and Morocco had suggested that Cisse was carrying seven babies.
Siby offered her congratulations to "the medical teams of Mali and Morocco, whose professionalism is at the origin of the happy outcome of this pregnancy".
AFP
Buhari pledges better collaboration with Zambia
Nigeria and Zambia will deepen collaboration between the two countries, President Muhammadu Buhari has assured.
The President spoke Thursday at State House, Abuja, while receiving a Special Envoy of His Excellency, Edgar Chagwa Lungu.
He said the two countries would explore further areas of collaboration for the good of their peoples, and benefit of the African continent.
The Special Envoy, Hon Joseph Malanji, who is Zambia's Minister of Foreign Affairs, thanked Nigeria for her "big brother role in ECOWAS and the African continent," stressing that "equity is when strong ones strengthen the weak ones."
The Zambian President called for stronger bilateral relations and greater impetus for the Joint Commission of Cooperation between the two countries.
Breaking: Late Deby 's son takes over, to head Transitional Military Council in Chad
A transitional military council is established in Chad, headed by Lt.-Gen. Mahamat Idriss Deby, the son of late president Idriss Deby, the Al Wihda newspaper reported on Tuesday.
The military plans to publish a "transitional charter" soon. Chad declared a two-week national mourning period after the president's death and imposed a curfew from 18:00 p.m. local time until 05:00 a.m.
In addition, the military decided to close land and air borders "until further notice."
The AFP reported earlier in the day that Deby, who commanded an army unit during hostilities against the rebels in Chad's north, died.
A source confirmed to Sputnik that the president was critically injured during the clashes and died later in a hospital.
Mahamat previously served as the second in command of the Armed Forces for the Chadian Intervention in Northern Mali (FATIM).
On Feb. 22, he led his army against rebels in the Adar al-Ifoghas mountains in Northern Mali leading to the Battle of al-Ifoghas.
They eliminated a rebel base said to be of "significant importance", inflicting heavy losses upon the rebels but also losing twenty-six men in the process, including Abdel Aziz Hassane Adam, a commander of special forces.
Mahamat took full command of the FATIM and has since been leading operations against rebels in the North.